What is the 4th Industrial Revolution and what does it mean for the tech industry?

What key infrastructures are required to reach the next stage of technology development?

What are the possibilities for 2018 and beyond?
The 4th Industrial Revolution (4IR) has risen at a faster pace and on a bigger and wider scale in 2017, as evidenced by robust demand on cloud and artificial intelligence (AI). This is just the tip of the iceberg and we expect a bigger wave of the 4IR occurring in the decades to come. There are huge business opportunities in the cloud space for the Asia-Pacific region, in our view, due to the presence of emerging economies in surge for data centers and cloud-based capabilities.
What is the 4IR and what does it mean for the tech industry?
The 4IR is marked by emerging technology breakthroughs in a number of fields, including robotics, AI, nanotechnology, quantum computing, biotechnology, the Internet of Things, 3D printing and autonomous vehicles.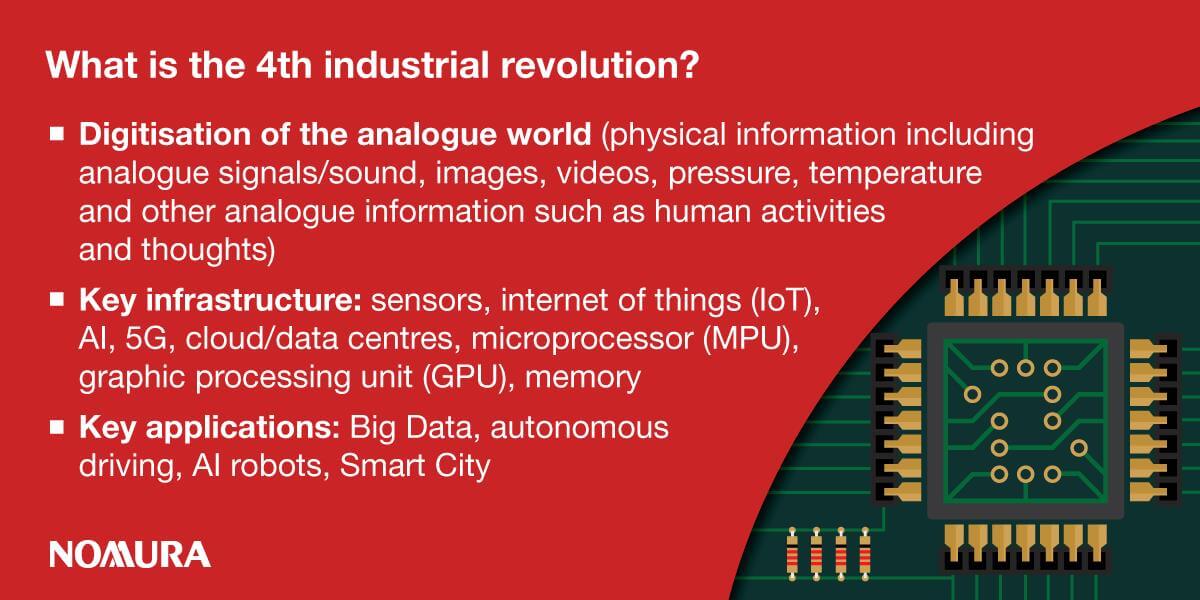 The current technology development is already at a stage where deep learning-based AI is able to collect, comprehend and analyze voices, images and videos, and is on its way to translating natural language.
A schematic diagram of a deep learning neural network system

Source: Nvidia, Andrew Ng, Baidu, Nomura research
In order to reach the next stage, the following key infrastructures are required:
Internet of Things (IoT): a wireless network connected with sensors/devices with many more than the number of nerves connected to human organs (approximately 100bn neurons in the human brain alone). We note that billions of devices including smartphones and PCs are already connected to the internet
Telecommunications networks with higher capacity and faster speeds (i.e. 5G or 5th generation wireless systems)
Highly capable computing power that is able to process huge amounts of data
AI training (learning a new capability from existing data)
Although we are still at an early stage, AI development is under way at a pace beyond our imagination, thanks to a leap in computing power and software development. The AI-related hardware system performance per cost has become approximately 10 times better in 2017F than in 2014, thanks to the adoption of GPU (parallel computing). Additionally, we are well aware that next-generation 5G speeds (to be commercialized 2019) should be 10 times faster than the current 4G.
This indicates that a new era should soon emerge where not only autonomous driving, smart security, smart healthcare and smart legal services are available, but also self-developing super-intelligent AIs should become capable of replacing humans in areas requiring intellectual ability beyond the conventional territory.
The new mega trend – what are the possibilities for 2018 and beyond?
1. Explosion of cloud services market and recovery in high-performance PC market
2. Memory super-cycle entering Phase 2 in 2018
3. Smartphone price increase in 2017 leading to prolonged replacement cycle in 2018
4. M&A and strategic partnership
5. Commercialization of Extreme UltraViolet (EUV), a key variable for semiconductor industry
6. New smartphone trend: OLED display and 3D sensing
7. Cryptocurrency (virtual currency)
8. China's accelerated uptake to electrification and battery electric vehicle (BEV)
Given a high chance of these changes happening on a much bigger and wider scale over time, and at a faster pace than the dotcom era of the 1990s, we will closely examine the industry to foresee who will emerge as winners and/or losers of this new mega trend. Based on market observations, these big changes will be mainly led by US tech names, with few Asian tech names that should benefit directly or indirectly from this mega trend.
Read the full report with our detailed outlook on each sectors here.