The economist Paul Samuelson famously once quipped that stock markets had predicted nine out of the past five recessions. Equally, both economists and financial markets have predicted dozens of interest rate increases by the Bank of England since the financial crisis that have – until recently – failed to materialise. The BoE's move marks the first hike for a decade and, in our view, the start of a long and slow process of policy normalisation.
What's next
Despite policy tightening being "gradual" and "limited" – a mantra that the MPC repeated in its commentary – and a removal of the statement pointing to the need to raise rates by more than the market expects, the Bank's forecasts for inflation to remain above target for the duration of the forecast horizon continue to suggest to us that interest rates will move up at a faster rate than the exceptionally slow pace implied by market pricing. That view is strengthened by the dovish response of the markets to the BoE's decision. As a result, we stick with our view that the Bank will raise rates by 25bp every six months, the next move being at the time of the May 2018 Inflation Report.
A judgment-based approach
We prefer to use a judgment-based approach to forecast the settling point for interest rates. How do we get there? How fast will the BoE tighten policy and what will this cycle's terminal rate be? Much depends on how long we think the current economic cycle has left to run, and the impact of the Brexit negotiations on expectations and thereby economic growth.
While the current cycle will be eight years old by the end of this year, economic cycles have lasted far longer than this in the past. In fact, only one cycle in the post-WWII period has been shorter, and cumulative growth in the "average cycle" has been far higher than the meagre 16.5% in the current cycle to date (between 2010 and 2017).
Economic cycles over the past 70 years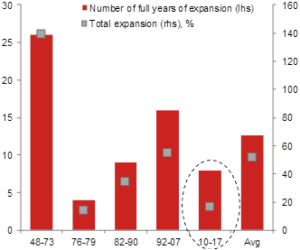 Source: ONS, Haver Analytics, Nomura
If we assume a two-year transition period for Brexit between 2019 and 2021, and a comprehensive "Canada-plus" style deal in place from 2021 onwards, then it seems entirely reasonable that we should be forecasting a continuation of the economic expansion for the UK over the next few years. Although it seems unlikely for the strong pace of global growth to persist indefinitely and for the uncertainty surrounding the Brexit negotiations to not impact investment and consumer spending, we see no reason to expect an abrupt turnaround in the economic cycle that would prevent the BoE from raising rates back towards a more normal level.
For more insight into the BoE hike, read our report Journey of a thousand miles.