Gray swan events are high impact and relatively predictable; it could pay to prepare for them.

Inflation: Could 'amazonification' drive it lower or might an energy price shock may lead to second-round inflation?

Politics: Possibilities include a move towards a United States of Europe or a second Brexit referendum.
We'd love to be able to predict black swan events but they are inherently impossible to anticipate. Instead, it makes more sense to focus on gray swan events; unlikely but high impact market events that are relatively predictable.
None of the 10 gray swan events listed below are our base case – but considering them they might help you be prepared.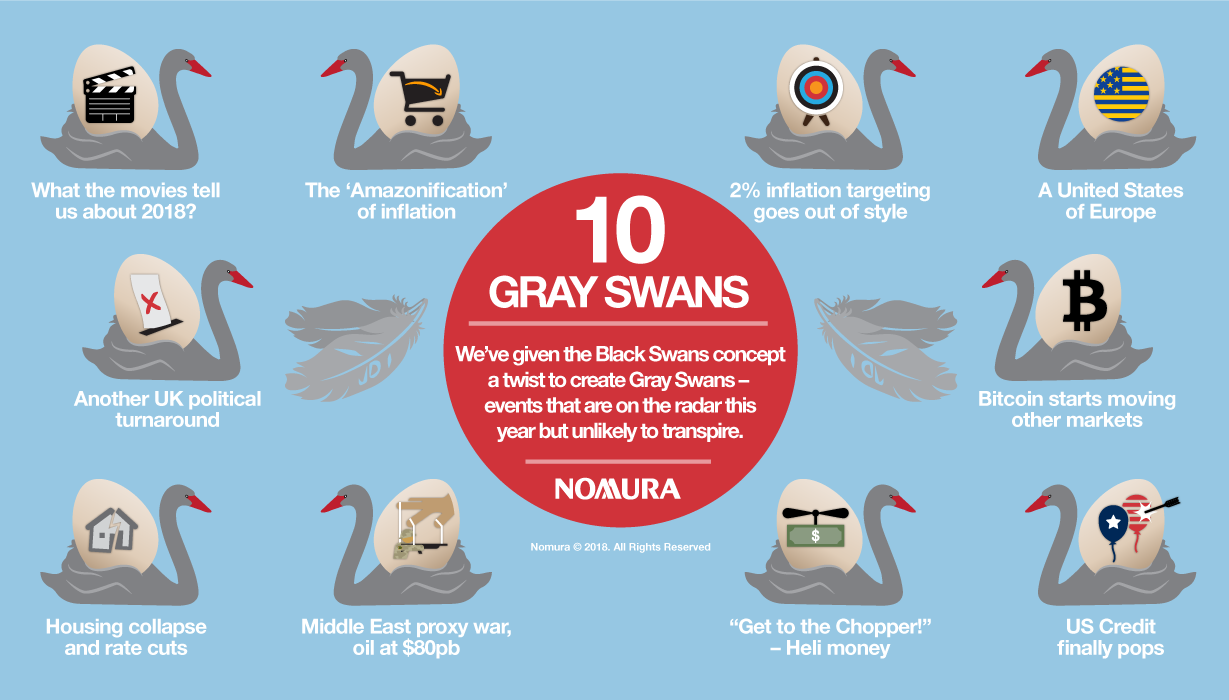 1. The 'Amazonification' of inflation
The sharp decline in goods price inflation has driven US inflation's long-term decline – perhaps the 'Amazon effect' won't stop there. Smartphone ubiquity in the developing world, the ease of overseas outsourcing, the gig economy and AI's rise could dampen inflation for years to come.
2. The end of 2% inflation targets
Inflation targets of around 2% are a relatively new phenomenon. Given the recent lack of success in hitting inflation targets and ageing demographics, governments in some countries could see political benefits in lowering targets to around 1%.
3. A United States of Europe
It's possible that countries within the euro area could be about to forge closer ties and embark on a political journey that ends with the creation of a United States of Europe. One possible next step is a treaty change that leads to increased mutualization of debts and sharing of risks.
4. Another UK political turnaround
A political turnaround in the UK is yet to happen but the event risk there is heating up over the customs unions and will come to a head in the coming months.
5. Bitcoin starts moving other markets
It's too early for Bitcoin to start impacting other asset markets. However, it is already affecting demand for energy. That could prolong surging demand for coal.
6. Housing market decline = rate cuts
Solid growth, low interest rates and hot money inflows from overseas have fueled rapid house price gains in Australia, Canada, New Zealand, Norway and Sweden and led some to anticipate rate hikes. But under extreme scenarios, rates markets may move to price in cuts rather than hikes and bond yields and currencies will depreciate versus the majors.
7. A bigger proxy war in the Middle East
In 2018, the tensions in the Middle East may intensify and oil prices and global inflation might be impacted. Already we have seen the impact of oil's rise start to be reflected in certain parts of EM with winners and losers emerging, the winners including Saudi Arabia, Nigeria, Colombia and Malaysia, and the clear-cut losers are Turkey, India and the Philippines. Combine that with the one-two punch of rising US rates and USD appreciation and we are witnessing a rising market risk premium in EM countries whose the balance of payments (BOP) is vulnerable. In major economies, an energy price shock may lead to second-round inflation, prompting a monetary policy response with knock-on effects for risk assets.
8. Get to the chopper!
The Bank of Japan is one of the most likely candidates for a much looser fiscal and monetary policy – also known as helicopter money. It could also be a natural next step for other central banks facing policy limitations, such as the European Central Bank.
9. Credit: stealth leverage pops?
After years of accommodative policy, we think leverage has built up in the system and lurks in commercial real estate loans, subprime auto loans, student loans, and financial leverage. Most of this is not systematic. However, financial leverage is potentially problematic. Over the past decade, corporate capital markets debt is up roughly $3 trillion. Repriced corporate credit against a backdrop of thin balance sheets could create meaningful risk.
10. What the movies tell us
Films could be better predictors of gray swans than research analysts. We've found Terminator Salvation and Rollerball-movies based in 2018 to be eerily similar to today's world. It's easy to dismiss the extreme plots in films but their essential necessary ingredients – drones, computer-controlled power grids and AI – are part of our lives. Could they presage the future?
For more insight into the gray swan events and how they could end up disrupting markets this year, read the full report on the Global Research Portal.