The fourth industrial revolution (4IR) encompasses breakthroughs in robotics, AI, nanotechnology, quantum computing, biotechnology, the Internet of Things (IoT), 3D printing and autonomous vehicles. 4IR will touch every industry and area of human activity; it's already underway and is evolving faster than any of the revolutions that preceded it.

As our report notes, we expect 4IR to create huge opportunities for Asia-Pacific, not least in the cloud space given the surge in demand for data centers and cloud-based capabilities in emerging economies.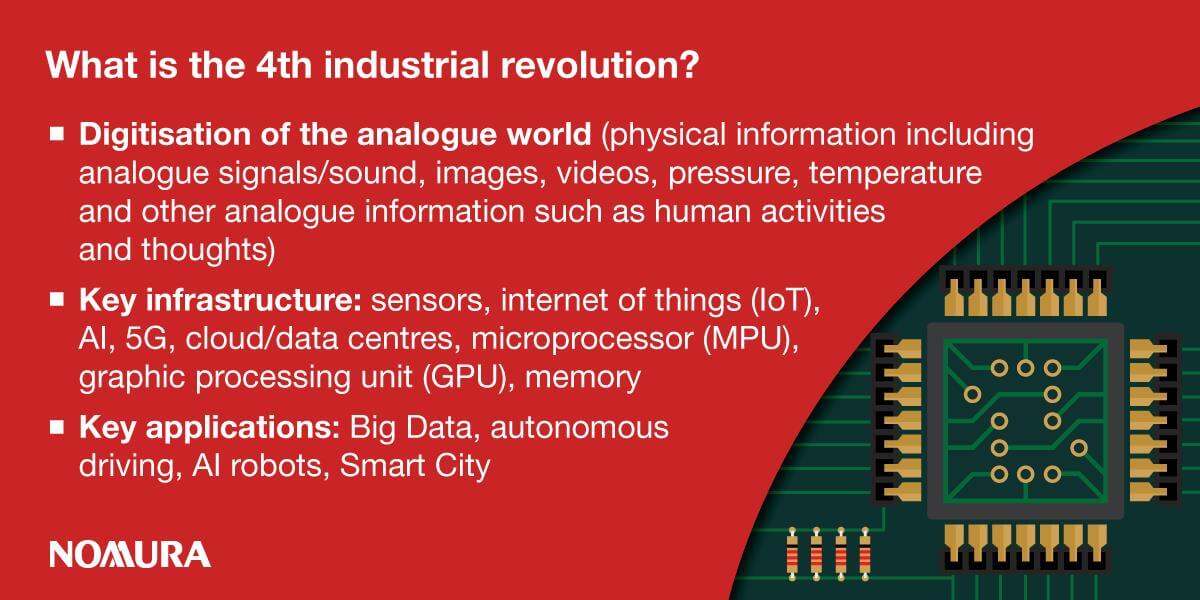 How advanced is 4IR?
Deep learning-based AI is already able to collect, comprehend and analyze voices, images and videos, and is on its way to translating natural language.

A schematic diagram of a deep learning neural network system
In order to reach the next stage, the following key infrastructures are required:
IoT: a wireless network connected with sensors/devices; billions of devices, including smartphones and PCs, are already connected to the internet
Telecommunications networks with higher capacity and faster speeds (i.e. 5G wireless systems)
Highly capable computing power able to process huge amounts of data
AI training (learning a new capability from existing data)
Many of these developments are on the way, thanks to a leap in computing power and software development. AI-related hardware system performance per cost was approximately 10 times greater in 2017 than in 2014, thanks to the adoption of graphics processing unit (or parallel) computing, for example. Meanwhile, commercialization of 5G in 2019 will deliver speeds 10 times faster than 4G.
We're on the edge of a new era of autonomous driving, smart security, smart healthcare and smart legal services. More dramatically, self-developing AI-based processes are likely to become capable of replacing humans in areas requiring intellectual ability in the foreseeable future.
Keys themes addressed in our report
1. The explosion of cloud services and a recovery in the high-performance PC market
2. The memory super-cycle will enter phase two in 2018
3. A prolonged smartphone replacement cycle in 2018
4. M&A and strategic partnerships
5. The commercialization of extreme ultraviolet, a key variable for semiconductor industry
6. New smartphone features, including OLED displays and 3D sensing
7. Cryptocurrencies
8. China's accelerated uptake of electric vehicles
Our report also assesses the likely winners and losers of 4IR. Many of the big changes likely to result from 4IR will benefit US tech names but some Asian tech names should benefit directly or indirectly from this mega trend.
Read the full report with our detailed outlook for all relevant sectors here.
---------------------------------
Read our newest report explaining differentiators for each tech subsector here.
Key themes and analysis in this Anchor Report include:
- How 4IR tech is increasing its presence in our day-to-day lives.
- 1H18 review and outlook for 2H18F, by subsector.
- Detailed outlook for key subsectors: memory, semi equipment, display, handset/parts, PC hardware, IT services and 4IR.