In this study, our economists assess the impact of US trade protectionism, centering on China. The goal is to examine which countries and industries would ultimately bear the brunt should the US step up trade protectionism.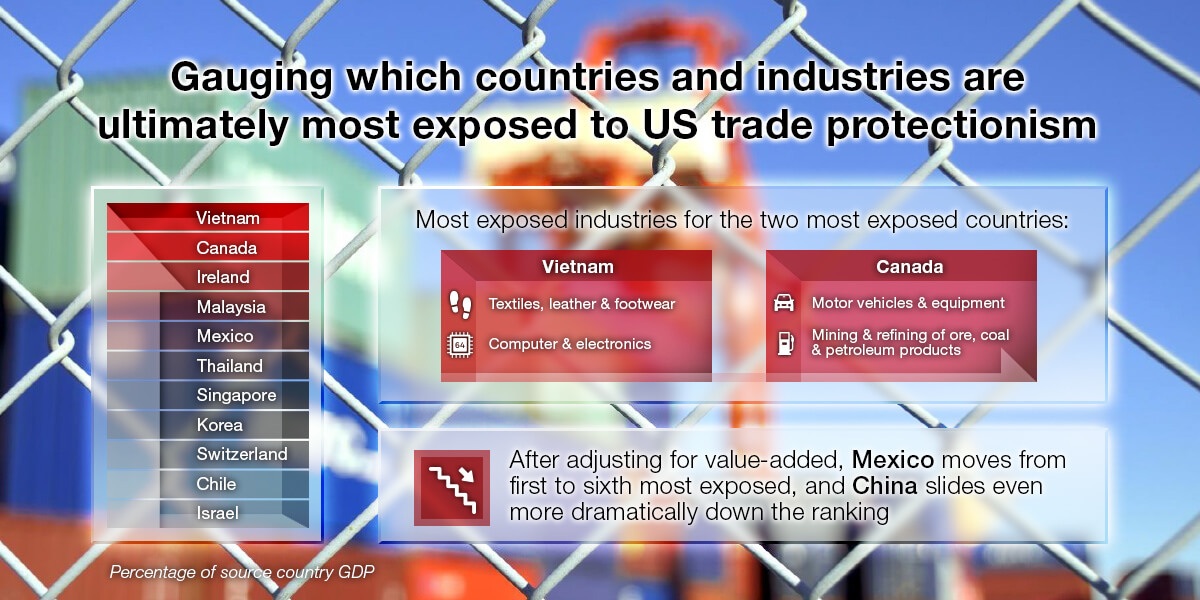 Our team's primary focus is to resolve the biggest trade misclassification in Asia – i.e. disentangling the foreign value-added in China's gross exports and reassigning it back to its original source countries. In this study, our economists and strategists assess the ultimate export exposure of 38 countries and 11 industries to the US.
According to our economists, the most exposed countries (in descending order) are Vietnam, Canada, Ireland, Malaysia, Mexico, Thailand, Singapore, Korea, Switzerland, Chile and Israel. Asia is the most exposed region – six of the top 10 exposed countries are Asian – as the foreign value-added in China's exports is reallocated back mostly to other Asian countries. The most exposed industries vary widely by country, from textiles, leather & footwear in Vietnam, to motor vehicles & equipment in Canada.
Our FX strategists expect Northeast Asian FX to underperform on increased protectionism as negative macro and geopolitical risks rise. Policymakers may also shift to pro-growth policies including FX flexibility. In Southeast Asia, we would expect SGD and MYR to underperform. In LatAM, MXN would suffer, while CLP would sway between US and China factors. EEMEA would be less affected, with ILS possibly outperforming despite Israel's exposure to the US.
Click here to view the full report with detailed analyses on export exposure to the US, and the hazards trade protectionism would pose on emerging markets FX.

Related report – Diverging housing market outlooks: country specific factors will make the difference, which also includes country specific 2018-19 Outlook - April 2018
Contributor
Rob Subbaraman

Head of Global Macro Research

Michael Loo

Macroeconomic Research Analyst, Asia ex-Japan

Craig Chan

Global Head of FX Strategy

Henrik Gullberg

Senior EM Strategist

Mario Robles

Executive Director, Senior Latin America Strategist
Disclaimer
This content has been prepared by Nomura solely for information purposes, and is not an offer to buy or sell or provide (as the case may be) or a solicitation of an offer to buy or sell or enter into any agreement with respect to any security, product, service (including but not limited to investment advisory services) or investment. The opinions expressed in the content do not constitute investment advice and independent advice should be sought where appropriate.The content contains general information only and does not take into account the individual objectives, financial situation or needs of a person. All information, opinions and estimates expressed in the content are current as of the date of publication, are subject to change without notice, and may become outdated over time. To the extent that any materials or investment services on or referred to in the content are construed to be regulated activities under the local laws of any jurisdiction and are made available to persons resident in such jurisdiction, they shall only be made available through appropriately licenced Nomura entities in that jurisdiction or otherwise through Nomura entities that are exempt from applicable licensing and regulatory requirements in that jurisdiction. For more information please go to https://www.nomuraholdings.com/policy/terms.html.
Suggested views