Asian M&A shows no sign of abating — even despite the fluctuating geopolitical environment. As the only global investment bank anchored in Asia, Nomura is strongly positioned to advise companies aiming to close significant, value-accretive transactions that cut across borders and jurisdictions.
Our commitment is to understand the minutiae involved in global transactions, not only differences in regulatory environments but also business norms and cultural factors that are the keys to successful dealmaking.

As Asia's dominant investment bank, Nomura has advised on some of the biggest deals in the region. For two recent examples, we advised Takeda on its US$82 billion acquisition of Shire and Toshiba Memory on its US$18 billion sale to a Bain Capital-led consortium.

We've also played leading roles in complex transactions originating in China and Korea, and beyond. The following case studies demonstrate our global capabilities as well as our Asia expertise.
1. Helping clients realize their strategic goals: China Resources Beer
Immediately after AB InBev announced its acquisition of SABMiller in late 2015, Nomura realized there would be significant regulatory concerns should SABMiller retain its 49% stake in CR Snow. We then worked closely with our longstanding client China Resources Beer ("CRB") to repurchase the stake in one of China's most popular beer brands.
SABMiller's sale of its 49% stake became one of the closing conditions of AB InBev's acquisition, which Nomura utilized effectively to help CRB reacquire the shares at an attractive discount. On March 2, 2016, CRB announced its intent to acquire SABMiller's 49% stake in CR Snow for US$1.6 billion from AB InBev.
Subsequent to the repurchase, Nomura thought that CRB would consider a replacement partner to help continue its expansion into the growing premium beer segment in China. CRB ultimately decided on Heineken. Nomura again advised CRB, as the bank enjoys a strong relationship with Heineken due to previous transactions.
As a result, on November 5, 2018, CRB and Heineken announced a strategic partnership valued at US$4 billion, including Heineken's c.20% acquisition in CRB, CRB's acquisition of c.0.9% of Heineken and CR Snow's acquisition of Heineken China.
2. Unlocking complex transactions: GlobalWafers
On August 18, 2016, Taiwan-based GlobalWafers announced its intent to acquire US-based SunEdison Semiconductor ("SEMI") for US$683 million. Nomura saw an opportunity for GlobalWafers to acquire the loss-making SEMI a year earlier in 2015, amid a tumultuous period for the semiconductor industry.
Nomura guided GlobalWafers in a carefully devised strategy to engage with an initially hesitant SEMI management, being mindful of cultural nuances and taking advantage of strict fiduciary duty in the US. SEMI ultimately announced its intention to explore strategic alternatives, after which numerous interlopers joined the process. Nomura performed extensive analyses on interlopers to remain price competitive and showed that GlobalWafers would provide the most synergies.
This resulted in a landmark acquisition, catapulting GlobalWafers from sixth to third in global semiconductor wafer market
Download the PDF to read the full white paper
Contributor
Hajime Higuchi

Head of M&A, Asia ex-Japan

Apoorva Shah

Co-Head of M&A, Asia ex-Japan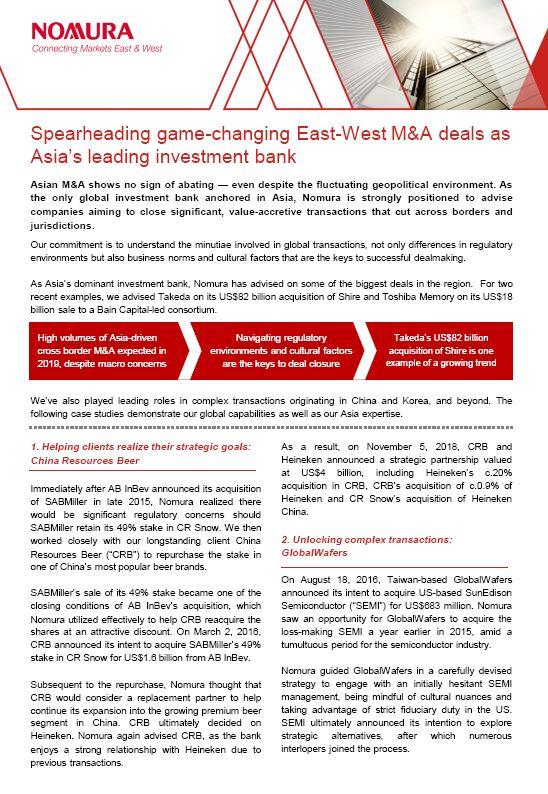 Suggested views