Hit to growth from fresh COVID-19 outbreak within range of assumptions

We forecast real growth outpacing potential growth during normalization process

We expect low inflation after pandemic due to the fiscal policies
Read our most recent report here. : Japan: FY20-22 economic outlook revisions - Factoring in second set of preliminary 2020 Q2 GDP data (we have raised our forecast for FY21 by 0.1ppt.)
Below article is as of August 17
Minor revisions to economic outlook in light of first set of preliminary GDP figures for April–June 2020

We revise our economic outlook for FY20–22 in light of the first set of preliminary GDP figures for April–June 2020, released on August 17. We have confined ourselves to minor revisions to our previous outlook dating from August 6, reflecting April–June 2020 data. We now forecast real GDP growth of -6.4% y-y in FY20, +4.8% in FY21, and +3.0% in FY22. We have lowered our FY20 forecast by 1.0ppt, mainly to reflect weaker consumer spending in April–June 2020 than we had envisioned, and raised our forecasts for FY21 and FY22 by 0.2ppt and 0.4ppt respectively on the prospect of a rebound from this.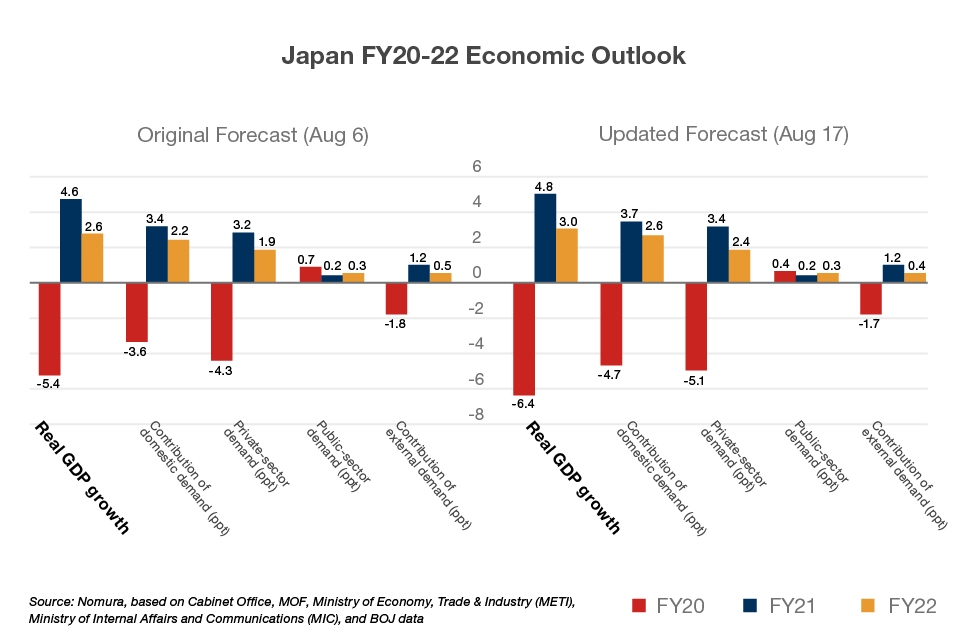 Hit to growth from fresh COVID-19 outbreak within range of assumptions
Real GDP registered its largest ever fall of 27.8% q-q annualized in April–June 2020.
However, economic activity recovered relatively strongly in June after the state of emergency was lifted, and partly thanks to carryover effects from this, we forecast a relatively strong rebound in real GDP of 9.7% q-q annualized in July–September 2020. The recovery in real consumer spending looks likely to slow as a result of the renewed spread of COVID-19 cases in Japan since July, and overall the economy looks to be moving in line with the modest recovery we had been expecting.
We forecast real growth outpacing potential growth during normalization process
We expect the real (and potential) growth trend after the pandemic to be weaker than prior to the pandemic not just in Japan but globally. However, during the process of postpandemic normalization heading into FY21 and FY22, we expect real growth to surpass potential growth (around 0.5–1.0%) as a result of the rebound in incomes and demand. Real capex is likely to hold up well, as investment in building construction has remained high and additional investment in digitalization spurred by the pandemic has also provided some support.
Low inflation after pandemic
Even with relatively high real GDP growth we expect during this normalization process, we do not expect the output gap to narrow. We forecast core CPI inflation (general, less fresh food) of -0.7% y-y in FY20, -0.2% in FY21, and +0.4% in FY22. We have lowered our FY21 forecast by 0.1ppt to reflect the time lag effect of growth in the output gap as a result of the downward revision to FY20 real GDP growth. Under such circumstances we would expect the BOJ and the government to stick with their current highly accommodative easing regime and expansionary fiscal policies aimed at stimulating demand for some time. We expect this government support to boost real growth during the post-pandemic normalization process.
Contributor
Takashi Miwa

Chief Japan Economist

Masaki Kuwahara

Senior Economist, Japan

Kohei Okazaki

Economist, Japan

Kengo Tanahashi

Economist, Japan

Yuki Takashima

Economist, Japan

Makoto Arai

Economist, Japan

Yuki Ito

Economist, Japan
Disclaimer
This content has been prepared by Nomura solely for information purposes, and is not an offer to buy or sell or provide (as the case may be) or a solicitation of an offer to buy or sell or enter into any agreement with respect to any security, product, service (including but not limited to investment advisory services) or investment. The opinions expressed in the content do not constitute investment advice and independent advice should be sought where appropriate.The content contains general information only and does not take into account the individual objectives, financial situation or needs of a person. All information, opinions and estimates expressed in the content are current as of the date of publication, are subject to change without notice, and may become outdated over time. To the extent that any materials or investment services on or referred to in the content are construed to be regulated activities under the local laws of any jurisdiction and are made available to persons resident in such jurisdiction, they shall only be made available through appropriately licenced Nomura entities in that jurisdiction or otherwise through Nomura entities that are exempt from applicable licensing and regulatory requirements in that jurisdiction. For more information please go to https://www.nomuraholdings.com/policy/terms.html.
Suggested views