Phuket reopened its borders to vaccinated tourists on July 1, and other provinces are scheduled to open in phases through October.

Our proprietary index, TRIPTracker, designed to estimate the recovery in tourist arrivals in Thailand, indicates it will take time before international travel to the country returns to pre-pandemic levels.

Push and pull factors such as the pace of vaccine rollout, the increased number of local and foreign Covid-19 cases, and degree of openness of source countries will determine the pace of the tourism recovery.
On July 1, Phuket reopened its borders to fully vaccinated tourists. To boost economic recovery, the government of Thailand intends to extend the "Phuket tourism sandbox" model to other provinces over the course of the next few months with the aim of reopening the entire country to international arrivals by mid-October. Tourism revenue from foreign tourists accounted for 11.4% of GDP in 2019 and represented a significant contribution to the current account surplus of 7.0% of GDP.
To quantify the near-term prospects of tourism sector recovery, we constructed the Nomura Tourism Recovery from Inbound Passengers (TRIP) Tracker for Thailand. The TRIPTracker is based on various indicators: the share of fully inoculated people in Thailand's source countries for tourists, the degree of openness of these countries to international travel and Thailand's willingness to accept visitors from them, as well as the contribution to tourism from each of the Thai provinces that have already reopened. It is designed to provide an estimate of the recovery rate of tourist arrivals compared to a normal year when the index is pegged at 100%.
As of July 1, the TRIPTracker read 0.5%, suggesting a limited recovery in visitors compared to 2019 levels year-to-date. Further out, it projects a weak tourism recovery rate of 0.8% in Q3 2021 and 2.9% in Q4. As a result, we lower our 2021 tourist arrivals forecast from 2 million to 400,000, and for 2022, from 31 million to 13 million. This will have knock-on effects this year on the current account balance which we forecast to be in deficit of 1.7% of GDP, and on GDP growth, which we maintain at a below-consensus 2.1%.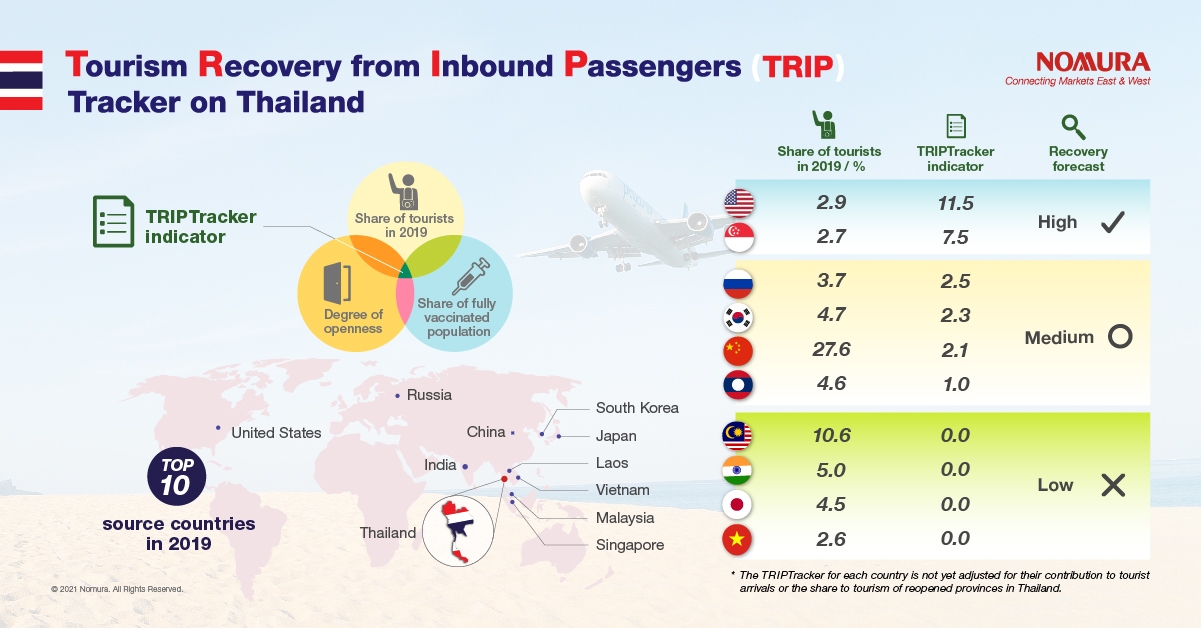 There are push and pull factors at play that could delay the recovery rate of tourist arrivals. Pull factors include slow vaccine rollout and an increased rate of Covid-19 cases locally. As of early July, only 7.7% of the country's population was inoculated, well below other Asian countries. The delay risks to reopening are particularly high for Bangkok, which accounts for 41.5% of tourism revenue, but remains a major Covid-19 hotspot. The surge in new cases there and in some other provinces prompted the government to tighten measures such as prohibiting dine-in services, lowering the limit for public gatherings and keeping all entertainment venues shut. These restrictions on domestic activities not only casts doubt on a timely full reopening, but also suggests tourism sentiment will likely remain weak.
In terms of push factors, the supply of foreign tourists will be limited by the pace of vaccination in the source countries of tourists and existing international travel restrictions. We estimated the full vaccination rate in 44 source countries, which accounted for 96.4% of tourist arrivals in 2019, weighted by their average contribution to Thai tourism. As of July 1, only 16.6% of the total population in these countries was fully vaccinated. Especially in the early stages, where many source countries face recurring pandemic waves, tourists from there may not be allowed to enter Thailand. This is especially true for Malaysia and India, the second and third largest sources of travelers into Thailand, respectively. Conversely, while the Thai regions are scheduled to reopen slowly, many countries are expected to maintain strict border rules.
All this suggests that as Thailand prepares to attract vaccinated foreign travelers, there's a long way to go before its tourism industry makes a full recovery.
For a more in-depth view into our Thailand TRIPTracker, read our full report here.
Contributor
Euben Paracuelles

Southeast Asia Economist

Charnon Boonnuch

Asia Economist
Disclaimer
This content has been prepared by Nomura solely for information purposes, and is not an offer to buy or sell or provide (as the case may be) or a solicitation of an offer to buy or sell or enter into any agreement with respect to any security, product, service (including but not limited to investment advisory services) or investment. The opinions expressed in the content do not constitute investment advice and independent advice should be sought where appropriate.The content contains general information only and does not take into account the individual objectives, financial situation or needs of a person. All information, opinions and estimates expressed in the content are current as of the date of publication, are subject to change without notice, and may become outdated over time. To the extent that any materials or investment services on or referred to in the content are construed to be regulated activities under the local laws of any jurisdiction and are made available to persons resident in such jurisdiction, they shall only be made available through appropriately licenced Nomura entities in that jurisdiction or otherwise through Nomura entities that are exempt from applicable licensing and regulatory requirements in that jurisdiction. For more information please go to https://www.nomuraholdings.com/policy/terms.html.
Suggested views