In our Week Ahead podcast we are discussing the main themes that will drive Global markets.

Our updated calendar identifies the top events that should be on your radar this week.

We also provide an outlook overview region by region for the rest of the year.
Listen to us on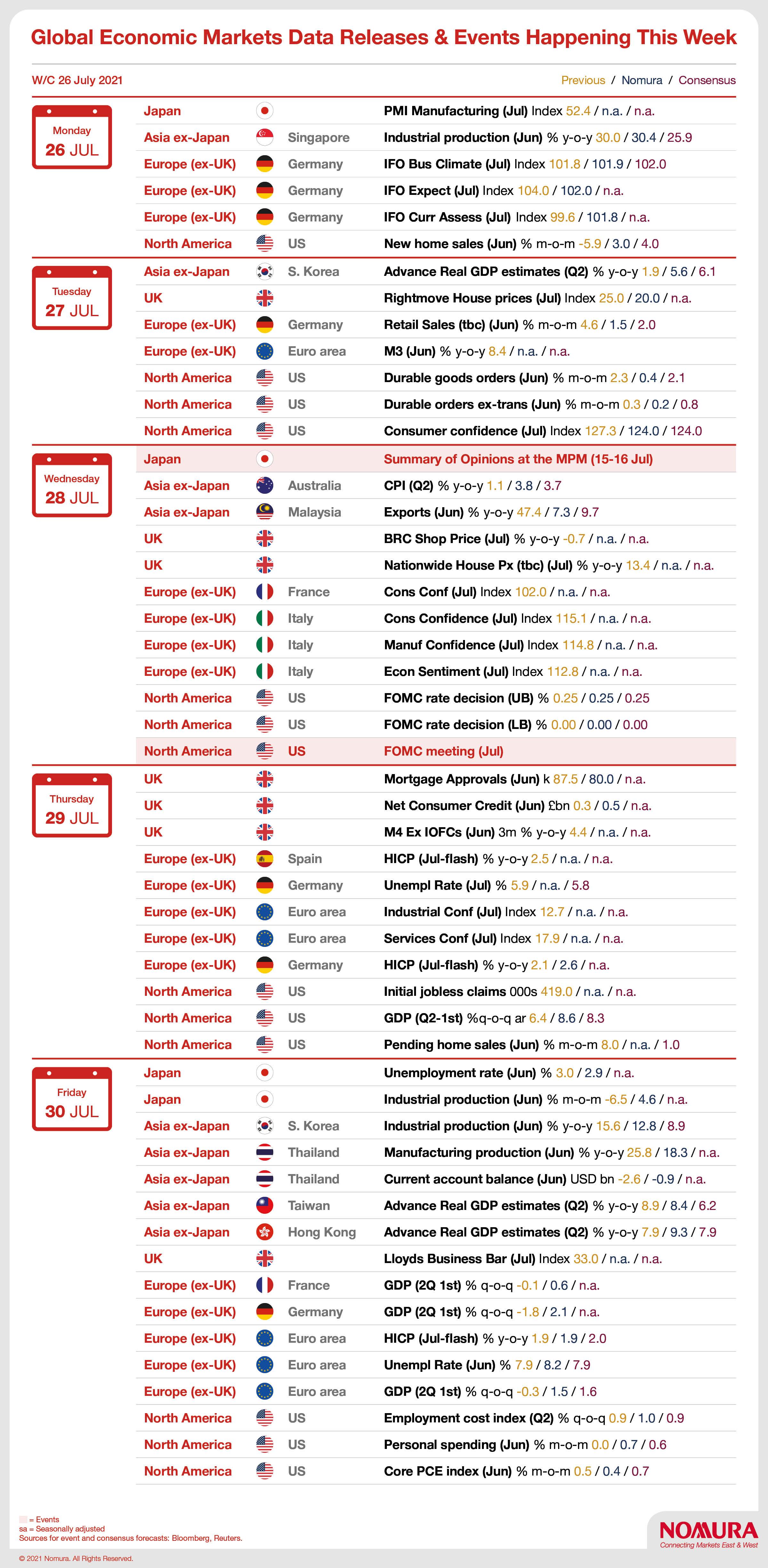 Our view in a nutshell
Japan
We expect growth to accelerate on vaccination progress, but another pandemic surge suggests flat short-run economic activity.
With the prolonged pandemic pushing down inflation, elevated international commodity prices will gradually push the rate higher.
We do not expect the Suga cabinet to make any significant change in economic policy and in BOJ's monetary policy.
The risk is renewed yen appreciation, caused by deepening US-China tensions and further risk averse moves in markets.
Asia
Asia's growth is on a bumpy upcycle and is likely to become more broad-based across exports and domestic demand.
The vaccine pivot point is ahead, with six economies likely to cross the threshold by Q3, enabling consumption spending to catch up.
Northeast Asia benefits from chip shortages amid the tech super cycle, with better pandemic resilience supporting consumption.
In Southeast Asia/India, elevated cases and tighter government restrictions could weigh on near-term domestic demand.
We expect Singapore and Taiwan to be the growth leaders in the region, while Thailand and the Philippines could lag.
Drivers of inflation will likely shift from supply-side to demand-push, but still broadly within the central bank targets.
We expect policy divergences this year, with a RRR cut in China, rate hikes in Korea and India and unchanged rates elsewhere
China: We expect downward pressure to increase in H2, and Beijing to counteract with "targeted tightening + universal easing".
Korea: We expect economic recovery to slow, but the BOK is likely to hike rates in August and November.
India: The second wave should slow near-term growth, but the medium-term upcycle and policy normalization from Q4 2021 are intact.
Indonesia: The impact of the latest Covid wave on GDP and the fiscal deficit will be large, raising debt monetization risks further.
Australia: Extending COVID-19 lockdowns add near-term downside risk but should not derail the broader recovery.
United States
Vaccinations and economic re-opening are boosting growth, but supply constraints may limit the pace of normalization.
Democratic control in Washington means more fiscal stimulus, but partisanship and narrow majorities will likely constrain policy.
We expect constant Fed asset purchases through 2021 before a gradual taper in 2022.
The Fed will likely stay at the ELB at least through Q1 2023 with inflation remaining the key determinant to liftoff.
The unemployment rate will decline more gradually from here as the pace of recovery slows relative to the post-lockdown rebound.
Economic reopening and supply chain disruptions will likely push up near-term inflation, but we expect deceleration in 2022.Notable risks include new SARS-CoV-2 variants along with both upside and downside risk around fiscal policy.
Europe
As lokdowns are lifted the recovery in euro area GDP should strengthen, particularly as we head into the second half of 2021.
Base effects, policy and weight changes, and global price pressures set to raise European inflation well-above target by year-end.
We expect ECB PEPP tapering from September and ultimately, as the program finishes, a switch into increased APP buying.
With mobility rising significantly the risks are for an earlier recovery in UK GDP to pre-pandemic levels than our Q2 2022 view.
Inflation is accelerating and we have raised our Q4 2021 view to 3.2%. Still, we see inflation falling back to target by end-2022.
Following another £150bn of QE the BoE should be done with easing. We expect combined QT and rate hikes from early 2023.
For more information read our weekly report here
Contributor
Rob Subbaraman

Head of Global Macro Research

Lewis Alexander

Chief US Economist

George Buckley

Chief UK & Euro Area Economist

Ting Lu

Chief China Economist

Takashi Miwa

Chief Japan Economist

Sonal Varma

Chief Economist, India and Asia ex-Japan
Disclaimer
This content has been prepared by Nomura solely for information purposes, and is not an offer to buy or sell or provide (as the case may be) or a solicitation of an offer to buy or sell or enter into any agreement with respect to any security, product, service (including but not limited to investment advisory services) or investment. The opinions expressed in the content do not constitute investment advice and independent advice should be sought where appropriate.The content contains general information only and does not take into account the individual objectives, financial situation or needs of a person. All information, opinions and estimates expressed in the content are current as of the date of publication, are subject to change without notice, and may become outdated over time. To the extent that any materials or investment services on or referred to in the content are construed to be regulated activities under the local laws of any jurisdiction and are made available to persons resident in such jurisdiction, they shall only be made available through appropriately licenced Nomura entities in that jurisdiction or otherwise through Nomura entities that are exempt from applicable licensing and regulatory requirements in that jurisdiction. For more information please go to https://www.nomuraholdings.com/policy/terms.html.
Suggested views