The recapitalisation effect

In the second half of the 1980s mortgage interest rates in real terms averaged over 7.5%. In contrast, in the five-year run-up to the global financial crisis they averaged less than half that, at 3.5%, and over the last five years they have halved again, averaging just 1.7%.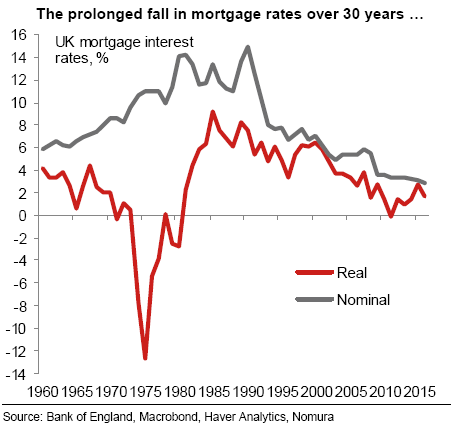 The persistent decline in mortgage interest rates over the past 30 years has been one of the most powerful influences that helped contribute to the more than fivefold rise in nominal (and 2.5-fold rise in real) house prices over that period.

What is more interesting is that following the sizable fall in interest rates and rise in house prices, the repayment-to-income ratio is now exactly in line with its long-run average. This indicates that, when it comes to affordability, the fall in mortgage rates has been completely offset by an equivalent rise in house prices known as the 'recapitalisation' effect.
From recapitalisation to decapitalisation
Now imagine this process in reverse. How far do house prices have to fall by 2030 to keep the repayment-to-income ratio in line with its long-run average when interest rates rise?
To develop our framework, we made some assumptions:
Bank of England official nominal interest rates will rise linearly to 4% by 2030 (i.e., just over 25bp of hikes per year). This resting point for interest rates reflects a combination of long-term real GDP growth of 2% plus 2% inflation.
The spread of mortgage rates over Bank Rate will remain close to its current 230bp.
Average nominal household income will grow at 2.5% per year, rising to 0.75% y-o-y thereafter.
Based on these assumptions, if our aim was to keep the repayment-to-income ratio static at its current long-run average level of 23.5%, then nominal house prices would need to remain broadly unchanged each year between 2017 and 2030. That equates to an average 1.75% annual decline for each of those years. In level terms, nominal house prices would be unchanged relative to this year by 2030; in real terms that equates to a 20% decline over the period.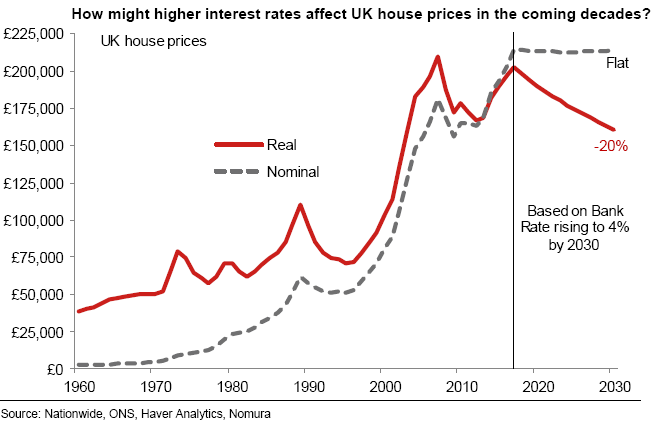 In other words, just as lower interest rates were 'recapitalised' into higher house prices over the past few decades, a normalisation in interest rates could result in a 'real term decapitalisation' of the UK housing market over the coming years.

For more in depth information on our analysis including some of the potential pitfalls, read The 'decapitalisation' of UK housing