Tension exists between the demands of shareholders for transparency on non-financial information and companies' ability to provide it

The abundance of approaches to measuring ESG is adding further complexity

Universal standards are coming, but agreeing them and embedding them will take time
Companies have traditionally been measured on purely financial metrics. However, over the past decade, there has been a paradigm shift in the focus of investor's attention towards non-financial information, much of which collectively falls under environmental, social and governance (ESG) metrics.
The increased requirement for companies to disclose these non-financial metrics, sometimes referred to as "invisible value", presents a problem for companies and investors alike. With no universally agreed set of standards for measuring this data, it can be hard to understand what these metrics mean – both for companies reporting them, and for investors attempting to compare them with a company's peers. One area which has proved particularly difficult is an inability to clearly explain the relationship between ESG (i.e. non-financial information) and business (financials).
Unifying non-financial information, and clearing up disclosure confusion.
By some estimates there are around 600 organizations providing ESG evaluation services. This plethora of providers has led to more confusion, with myriad approaches providing differing metrics and emphasising different aspects of non-financial information, which in turn makes comparison difficult.
In recent years there has been a move to unify the information disclosed internationally. For example, at the 2020 "Davos" Summit, the World Economic Forum published the findings of a six-month consultation looking at how to define common metrics for sustainable value creation. The resulting set of "Stakeholder Capitalism Metrics" and disclosures can be used by to align a company's mainstream reporting on performance against ESG indicators and track their contributions towards the UN's Sustainable Development Goals on a consistent basis.
According to the WEF, the metrics are deliberately based on existing standards, with the near-term objective of accelerating convergence among the leading private standard-setters and bringing greater comparability and consistency to the reporting of ESG disclosures. These metrics are shown in the chart below: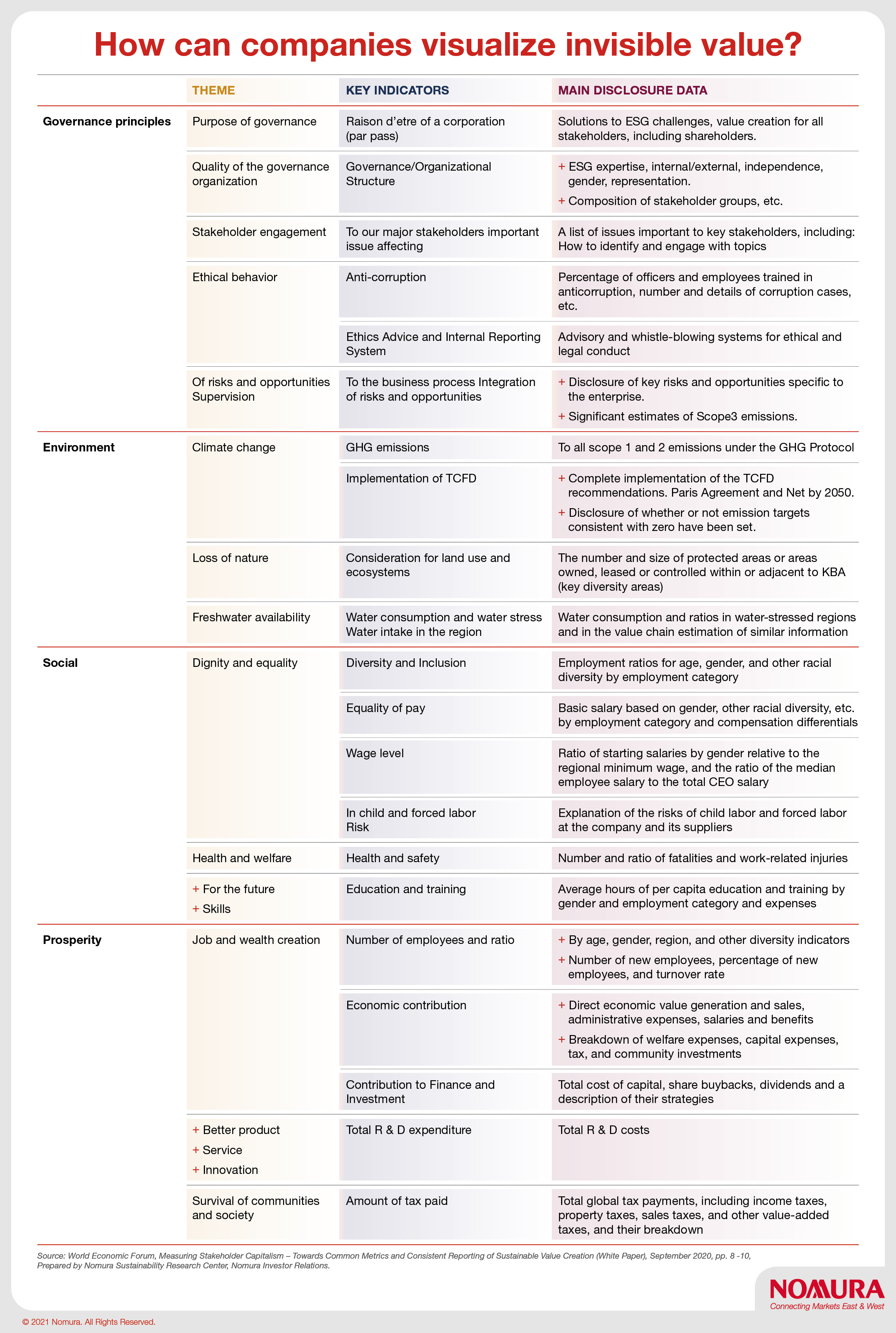 Shortly after the WEF published its guidelines, five global organizations, whose frameworks, standards and platforms inform the majority of sustainability reporting, announced a shared vision of what is needed for progress towards comprehensive corporate reporting – and the intent to work together to achieve it.
What companies can do in the meantime …
The drive to standardise ESG reporting is expected to culminate in a global bid for a consensus at the 2021 United Nations Climate Change Conference (COP26) in November.
However, while these initiatives are in their infancy, companies and investors will have to prioritise those indicators they see as important. These should centre on objectivity, comparability, and ease of showing progress over time.
Investors value transparency to make informed decisions and so it is essential that companies are able to prove their non-financial credentials. Clarity and consistency will enable investors to provide correct appraisals of companies and for companies to maintain positive relationships with stakeholders.
Contributor
Tamami Sahara

Sustainability Consulting Group, Nomura
Disclaimer
This content has been prepared by Nomura solely for information purposes, and is not an offer to buy or sell or provide (as the case may be) or a solicitation of an offer to buy or sell or enter into any agreement with respect to any security, product, service (including but not limited to investment advisory services) or investment. The opinions expressed in the content do not constitute investment advice and independent advice should be sought where appropriate.The content contains general information only and does not take into account the individual objectives, financial situation or needs of a person. All information, opinions and estimates expressed in the content are current as of the date of publication, are subject to change without notice, and may become outdated over time. To the extent that any materials or investment services on or referred to in the content are construed to be regulated activities under the local laws of any jurisdiction and are made available to persons resident in such jurisdiction, they shall only be made available through appropriately licenced Nomura entities in that jurisdiction or otherwise through Nomura entities that are exempt from applicable licensing and regulatory requirements in that jurisdiction. For more information please go to https://www.nomuraholdings.com/policy/terms.html.
Suggested views