The European Union kick-started the first phase of Sustainable Finance Disclosure Regulations in March 2021, requiring asset managers and financial advisors to reveal ESG information to encourage more private money into green investing.

Key parts of the rules classify strategies as Light Green and Dark Green depending on how embedded they are in sustainability. Some large asset managers are already actively using SFDR for most existing products, while also developing new ones with the framework in mind

The second phase of SFDR with more onerous obligations will be rolled out in 2022.
What is SFDR?
The Sustainable Finance Disclosure Regulations (SFDR) are a set of rules designed to shine a light on ESG information in the fund management industry to help inform investors about the types of green assets they are putting their money into. The EU's policy objective is to divert a greater amount of private wealth towards sustainable investing. The regulation should create a more level playing field to compare how asset managers are approaching major issues like climate change.
It also requires asset managers to publish the adverse effects of their investments on the environment and society, which will help to prevent 'greenwashing', the act of dressing up a product to be more environmentally-friendly than it actually is.
The EU began applying SFDR to asset managers doing business in Europe on March 10 but more detailed dislcosures won't be mandated until 2022. Europe's money managers have been practising ESG integration to the tune of €3.8 trillion, or 16% of investment funds and discretionary investments as of the end of 2019, according to the European Fund and Asset Management Association. The rules are being introduced just as funds for ESG management are increasing.
SFDR Overview and Challenges
SFDR requires asset managers and financial advisors,to disclose ESG-related information on an entity basis and by financial product(Table 1).


Disclosure Challenges
1. Entity level
Money managers and advisers are required to publish their policies on their websites. An important area of disclosure is called Principal Adverse Impacts, which deals with the negative effects of investment decisions and advice on sustainability factors. This is designed to prevent 'greenwashing' and allow investors to weigh the positive and negative activities of the firm.
2. Financial Instrument
This is divided according to the nature of the product. First, market participants assess and reveal sustainability risks that may affect returns. They also need to disclose financial products that promote environmental and social characteristics (Article 8), also called Light Green; and financial products that aim at sustainable investment (Article 9), known as Dark Green.
However, it is unclear which products fall under Light and Dark green because the definitions are ambiguous. Article 8 does not define what constitutes "promotion" of environmental and social characteristics. In other words, it is not clear which actions constitute advertising, yet at the same time SFDR requires disclosure of sustainability risks that may affect returns for all financial instruments.
Article 9 covers impact investment funds but it is unclear how much sustainable investment should be targeted. It defines sustainable investment as conditional upon (1) investing in economic activities that contribute to environmental or social goals, (2) not having a material adverse effect on either environmental or social goals, and (3) having good governance practices in terms of sound management structure, employment relationships, employee compensation, tax and compliance.
Under these circumstances, market participants are required to make their own judgement about whether products fall under Article 8 or Article 9 until detailed regulations are finalized.
Asset Managers' Approach
Asset managers and other entities have already started moving forward with their response to the rules. Below are some real examples: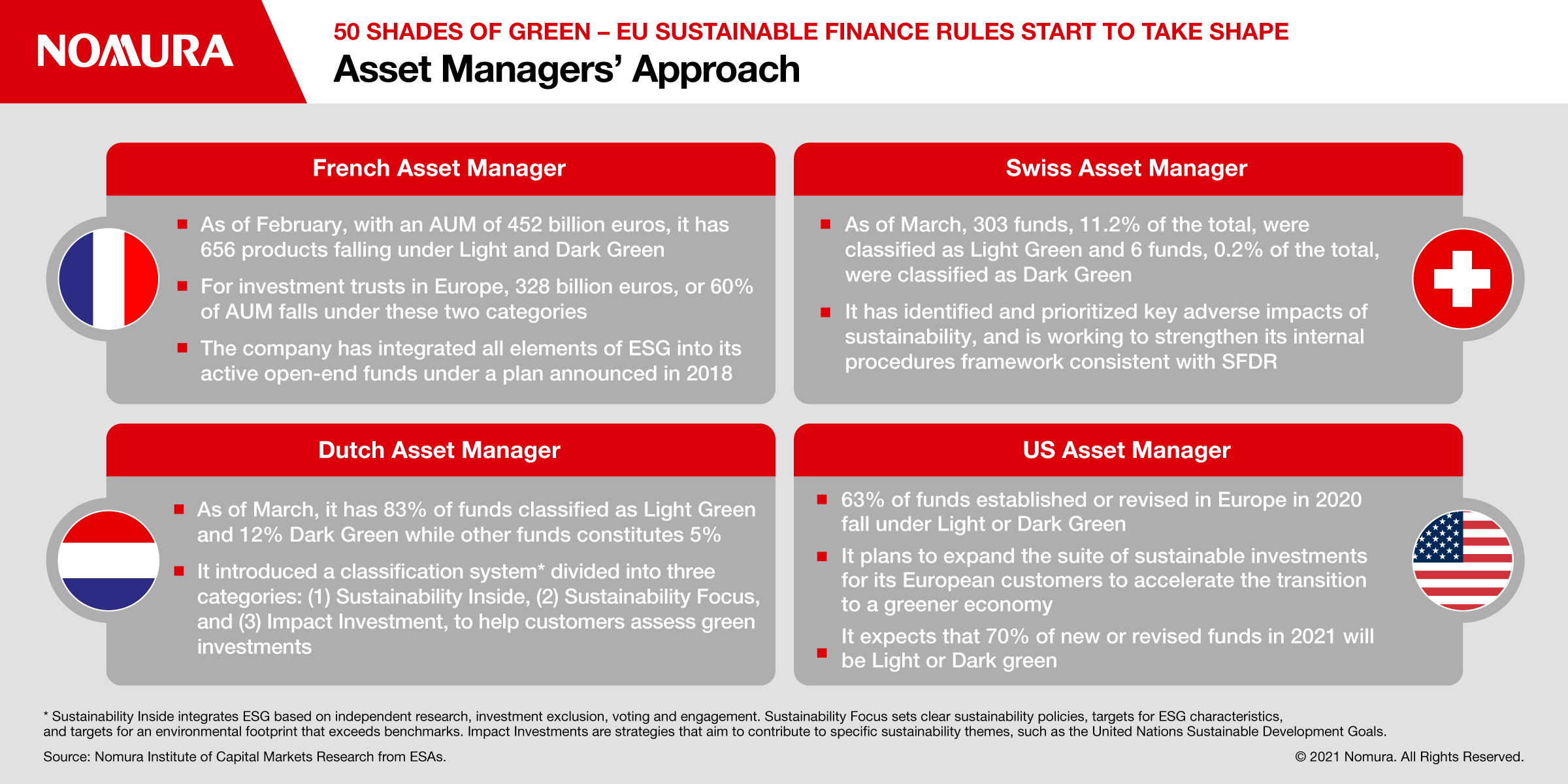 Looking Ahead...
While the SFDR regime is in its infancy and detailed regulations have yet to be finalized, asset managers that sell to EU investors already have a number of Light Green and Dark Green financial products. However, depending on how the European Commission establishes the bylaws, detailed ESG disclosures will not be available to investors until 2022. The incoming EU taxonomy may also affect SFDR by pushing companies to reveal more sustainability information. This is a transitional period that promises to greatly increase transparency and prevent greenwashing.
Download a PDF of the full whitepaper
Contributor
Shogo Isobe

Financial Industry Analyst, NICMR

Kenji Tominaga

Financial Industry Analyst, NICMR
Disclaimer
This content has been prepared by Nomura solely for information purposes, and is not an offer to buy or sell or provide (as the case may be) or a solicitation of an offer to buy or sell or enter into any agreement with respect to any security, product, service (including but not limited to investment advisory services) or investment. The opinions expressed in the content do not constitute investment advice and independent advice should be sought where appropriate.The content contains general information only and does not take into account the individual objectives, financial situation or needs of a person. All information, opinions and estimates expressed in the content are current as of the date of publication, are subject to change without notice, and may become outdated over time. To the extent that any materials or investment services on or referred to in the content are construed to be regulated activities under the local laws of any jurisdiction and are made available to persons resident in such jurisdiction, they shall only be made available through appropriately licenced Nomura entities in that jurisdiction or otherwise through Nomura entities that are exempt from applicable licensing and regulatory requirements in that jurisdiction. For more information please go to https://www.nomuraholdings.com/policy/terms.html.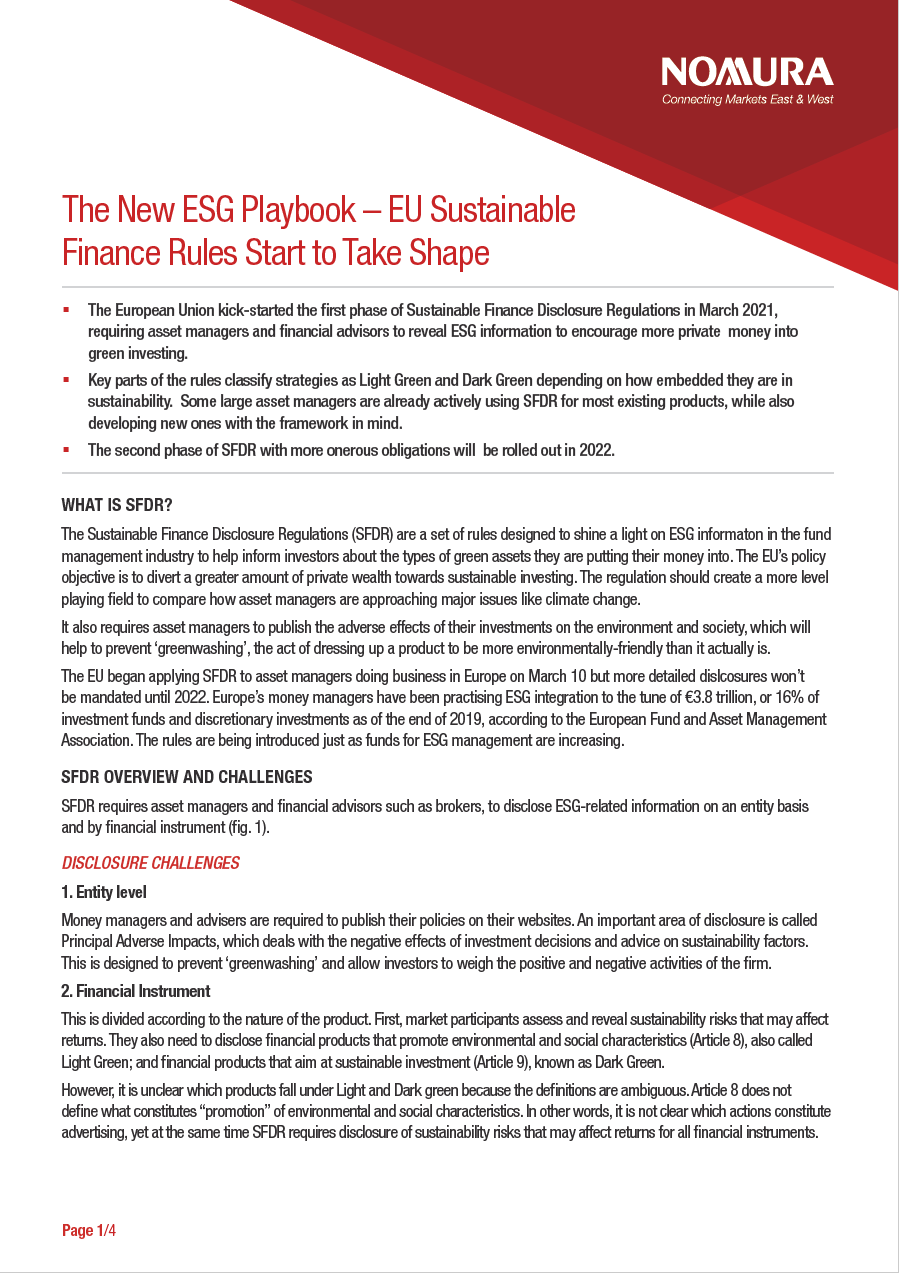 Suggested views