Italian woes are engulfing markets, with the prospect of new elections which may favour the newly emboldened anti-establishment parties

Brexit negotiations continue to affect the UK economy, with all eyes on the EU summit later this year

If Prime Minister Abe' s popularity continues to decline there could be upward pressure on JPY; but if he survives the September LDP leadership election, there will be no mid-term impact
There is an undeniable correlation between geopolitics, market sentiment and the macro trading environment. In an era when a single tweet could trigger a geopolitical escalation, developed markets are beginning to behave more like emerging markets – politics has become a major driver.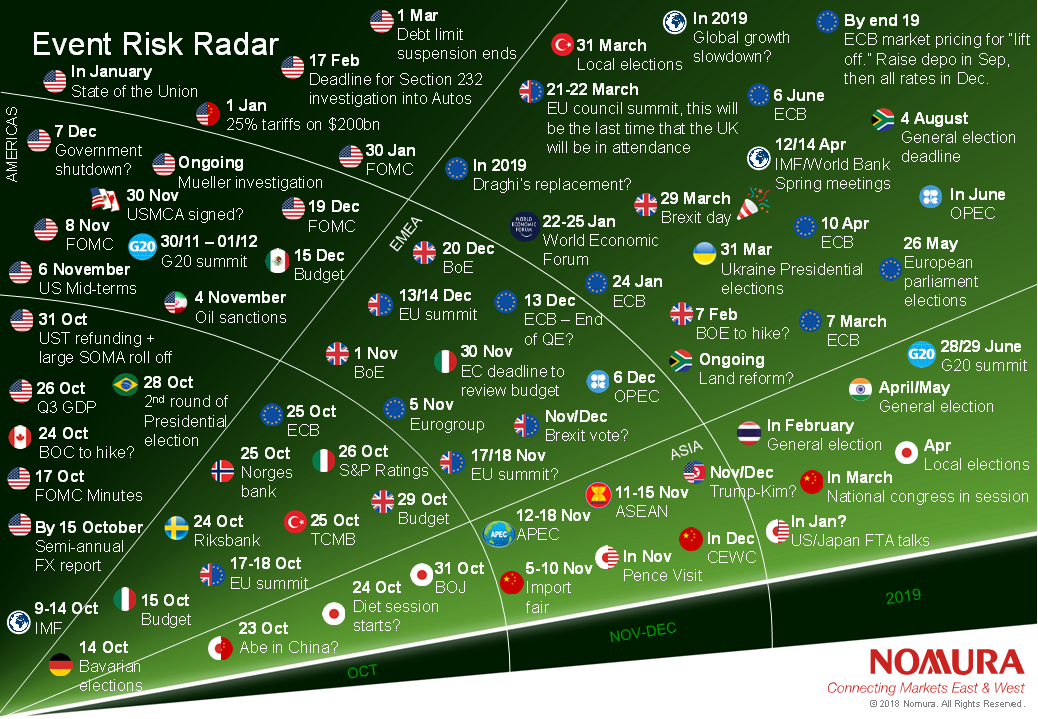 Our risk radar identifies some of the event risks we are watching to navigate increasingly politically-driven markets. They include:
1. 6 July - Trade tariffs become effective, US response function in question: The next few weeks may reveal a lot about the trajectory of US trade policy. We believe there is a real risk of escalation, with the potential for significant disruptions to US-China economic relations. Of course, the two sides could avoid this outcome. For example, a new round of talks, after the first round of tariffs is imposed, might avert escalation. Events over the next few weeks could indicate whether trade tensions will ease or intensify over the rest of the year

2. 18/19 October – Brexit negotiations and the "meaningful vote": "Nothing is agreed until everything is agreed" is the line from UK ministers on the state of Brexit negotiations. So we expect the weeks before the EU summit in October to contain a lot of political noise in the UK. We also assign a 25% probability to a second referendum on the final deal, and we expect that to feature in market discussions closer to the time. The reason we assign such a high probability to this is that public sentiment seems to be shifting against Brexit. If this continues, watch for remain MPs (the majority) moving to capitalise.

3. US midterms: is a democratic wave coming? Midterms are often regarded as a referendum on the sitting president and/or incumbent party's performance. The opposition party almost always gains ground at midterm elections with just a few popular presidents proving exceptions to the rule. However, given the strong US economy and an increasing appreciation of the tax bill by the population, the Democrats may have to provide a clearer vision than just relying on President Trump's extremely low net approval ratings. If the Republicans lose control of the House, Washington would return to gridlock.

4. Q3 EM snapback: it is notoriously difficult to pinpoint the timing of an EM snapback, let alone the trigger, but we would say Q3 2018 is the high-risk quarter. We choose Q3 for four reasons. First, it is likely the quarter before G4 aggregate central bank assets start to shrink outright, and we would expect markets to react ahead of time. Second, it is around this time that President Trump will need to shore up his core support base ahead of midterm elections in November by delivering on some of his campaign pledges, notably pushing harder on the trade protectionism button. Third, by Q3, several new members of the FOMC will have settled in, and a continued diminishing of economic slack could start to tilt US monetary policy towards a more hawkish bias. Fourth, and finally, as China growth slows, it could be around Q3 that some dead wood in the corporate sector starts to rise to the surface (see Where are the risks in an EM snapback?).

5. Japanese LDP Leadership election: in the short term, if the decline in the Abe cabinet's popularity rating continues, it could exert upward pressure on JPY. However, if Prime Minister Abe survives in the LDP leadership election in September (not confirmed), we think there will be no medium-term impact on the currency. Fiscal policy could be loosened to bolster the Abe cabinet's popularity, and this could even work positively for Japanese equities and yen-crosses, as long as Prime Minister Abe stays in power. If he has to step down, we think short-term JPY appreciation will be unavoidable, while the policy stance of any successor will matter in the medium term. A tail-risk scenario is another snap election this year (see JPY: Five political scenarios ahead).

For a full list of events we're monitoring, please read Nomura's Event Risk Radar.
Contributor