Brexit negotiations continue to affect the UK economy, with all eyes on the EU summit later this year

China's easing cycle is different for this round, Beijing has shifted its policy stance towards clear credit easing and fiscal stimulus
There is an undeniable correlation between geopolitics, market sentiment and the macro trading environment. In an era when a single tweet could trigger a geopolitical escalation, developed markets are beginning to behave more like emerging markets – politics has become a major driver.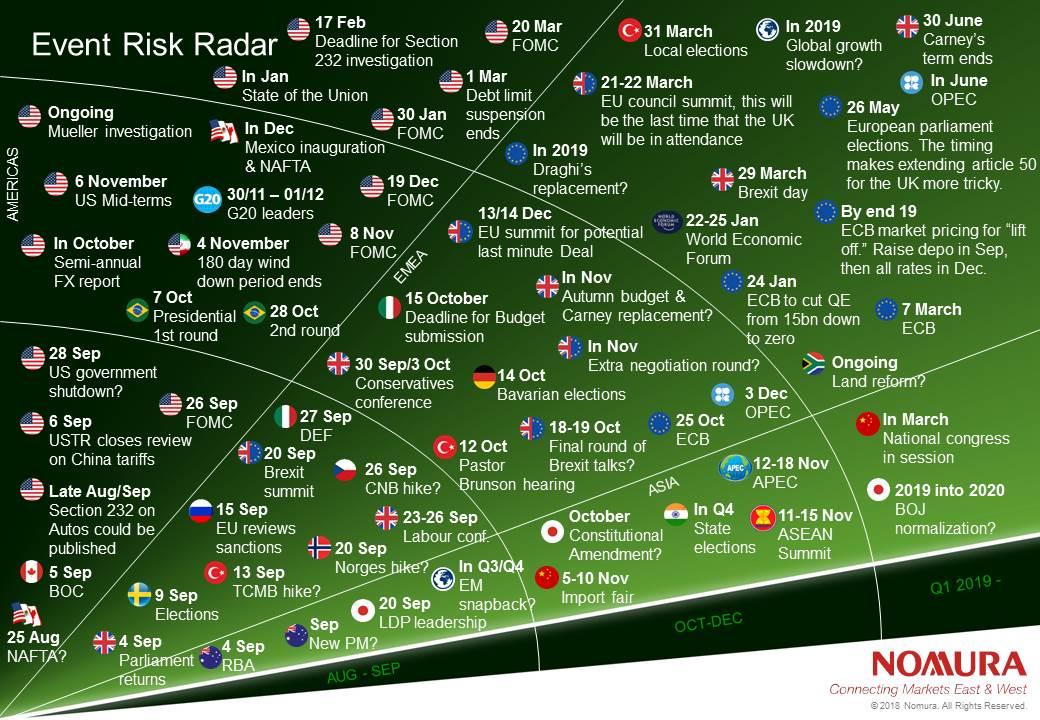 Our risk radar identifies some of the event risks we are watching to navigate increasingly politically-driven markets. They include:
4 September: Parliament returns from recess. This is when political scrutiny over the government's handling will pick up once again. The House of Lords will likely amend the Customs and Trade bills on 4 September and 11 September, respectively.

20 September: Japanese LDP Leadership election: The election essentially determines the Japanese Prime Minister and thus, the outcome influences Japan's economic policy stance for the next three years. PM Abe's victory looks the most likely outcome, as the cabinet's approval rating has been stabilising at a healthy level and most of the LDP's major policy factions have announced they will support PM Abe. Political uncertainty rose temporarily from March to April, but the domestic political environment is likely to remain market friendly, supporting yen-crosses and Japanese equities, while limiting upside room for JGB yields.

18/19 October: Brexit negotiations and the "meaningful vote": "Nothing is agreed until everything is agreed" is the line from UK ministers on the state of the Brexit negotiations. So we expect the weeks before the EU summit in October to contain a lot of political noise in the UK. We also assign a 20% probability to a second referendum on the final deal, and we expect that to feature in market discussions closer to the time. The reason we assign such a high probability to this is that public sentiment seems to be shifting against Brexit. If this continues, watch for remain MPs (the majority) moving to capitalise on the shift in public perceptions (see Brexit FAQs).

4 November: Iran sanctions come into effect: The market's focus may return to the impact of the nuclear deal around the end of the 180-day wind-down period (see here for FAQs). There is likely to be a significant reduction in oil purchases in the EU from Iran, but the European Commission said it would launch the process of activating a law that bans European companies and courts from complying with US sanctions against Iran, along with a proposal for EU governments to make direct euro-denominated payments for Iranian oil to Iran's central bank, bypassing the US financial system.

China's easing cycle is different for this round: Beijing has shifted its policy stance towards clear credit easing and fiscal stimulus. This raises the question of whether this is a case of déjà vu all over again. Our answer is no, and we tend to believe Beijing's stimulus to be narrower, slower and less strong than in previous easing cycles. The reasons behind our call include: 1) less policy room and more constraints on easing; 2) given the unfolding trade conflict with the US, Beijing needs to reserve some stimulus measures for rainy days; 3) a significant change in policymakers' mentality, with financial stability now being increasingly preferred over growth stability; and 4) a lack of consensus on best strategies. In the coming months, we expect growth to drop further, before staging a modest rebound with infrastructure investment the major driver. Easing measures and stimulus are likely to be rolled out in stages. Deleveraging will continue to be put on hold until Beijing feels the imminent risk of financial and growth instability is cleared, but will be more cautious in adding too much leverage again. More spending will be funded by the central government and its agencies, underpinned by faster issuance of central government bonds and policy bank bonds

Read the full Risk Radar here.

Contributor
Jordan Rochester

FX Strategist