We revised up real GDP growth estimate for FY20 but lowered forecasts for FY21 and FY22 based on the US election results and renewed increase in COVID-19 infections

Third wave of COVID-19 will likely slow the recovery in real consumer spending but with rollout of vaccine, we think constraints on economic activity could start to ease from 2021 H2

Although our core CPI forecasts were revised slightly upward, we believe underlying inflation to remain below BOJ's price stability target of 2%
Revisions to FY20–22 outlook for Japanese economy
Compared to our previous forecasts, we have revised up our real GDP growth forecast for FY20 by 0.9ppt to -5.5% y-y but we lowered our forecast for FY21 by 0.7ppt to +4.2% and our forecast for FY22 by 0.5ppt to +2.6%. The main factors behind the downward revisions are changes in our policy assumptions based on the US election results and the effects of the renewed increase in COVID-19 infections in Japan and elsewhere. Our colleagues in the US lowered their forecast for CY21 real GDP growth in the US based on the virtual disappearance of the possibility of a Blue Wave scenario–in which the Democrats capture the White House and the Senate and keep control of the House, bringing with it expectations of increased fiscal spending–and renewed growth in the number of COVID-19 infections.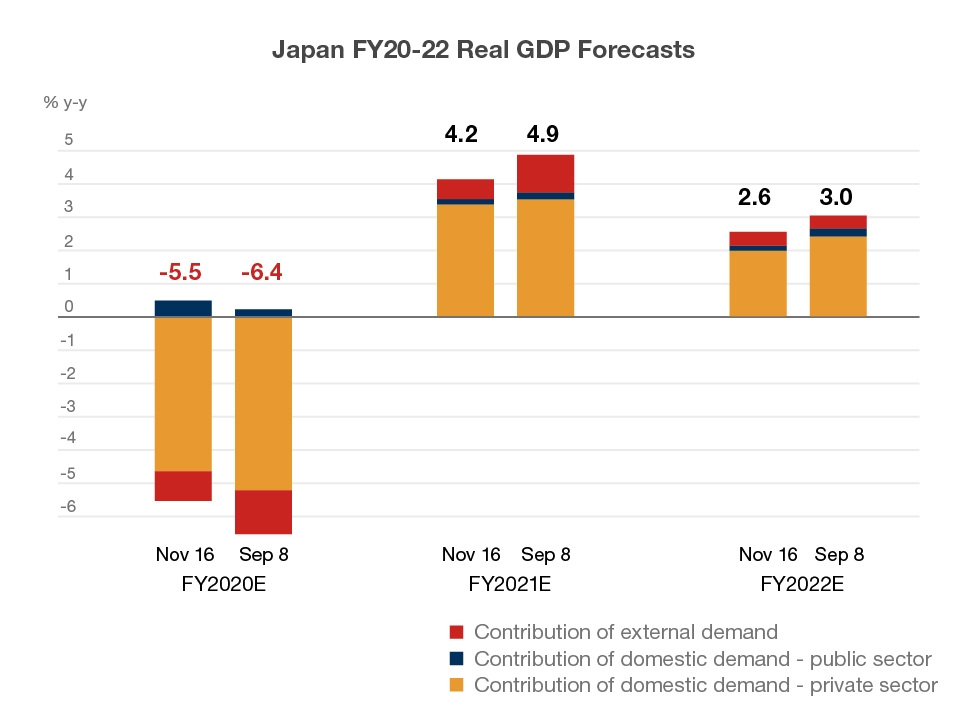 Mixture of expectations and unease regarding economic recovery from pandemic
Japan has recently seen an acceleration in COVID-19 cases in what appears to be a third wave, and we accordingly think the recovery in real consumer spending will slow in 2020 Q4 and 2021 Q1. Meanwhile, expectations are increasing for the early development and rollout of a vaccine, and we assume that the constraints on economic activity will start to ease from 2021 H2.
Slight upward revision to outlook for prices, but no change to low inflation trend
We forecast core CPI inflation (all items less fresh food) of -0.6% y-y for FY20, +0.1% for FY21 and +0.5% for FY22, representing upward revisions versus our previous forecasts. As well as energy prices being higher than expected recently, our revisions reflect a slightly lower-than-anticipated dent to prices from lower demand resulting from the pandemic. However, we forecast that underlying inflation will remain below the BOJ's price stability target of 2%.
Read our full report here.
Contributor
Takashi Miwa

Chief Japan Economist

Masaki Kuwahara

Senior Economist, Japan

Kohei Okazaki

Economist, Japan

Kengo Tanahashi

Economist, Japan

Yuki Takashima

Economist, Japan

Makoto Arai

Economist, Japan

Yuki Ito

Economist, Japan
Suggested views