Factoring in second set of preliminary 2020 Q2 GDP data

July to September consumer spending and exports broadly as expected

Implications of Abe resignation for economic policy

Inflation outlook broadly unchanged
Factoring in second set of preliminary 2020 Q2 GDP data
We revise our outlook for the Japanese economy for FY20–22, having factored the second set of preliminary GDP estimates for 2020 Q2 released on 8 September, as well as currently available data for Q3, into some of the demand elements of GDP. We now forecast real GDP growth of -6.4% y-y in FY20, +4.9% in FY21, and +3.0% in FY22.
Compared to our previous outlook dating from 17 August, we have raised our forecast for FY21 by 0.1ppt.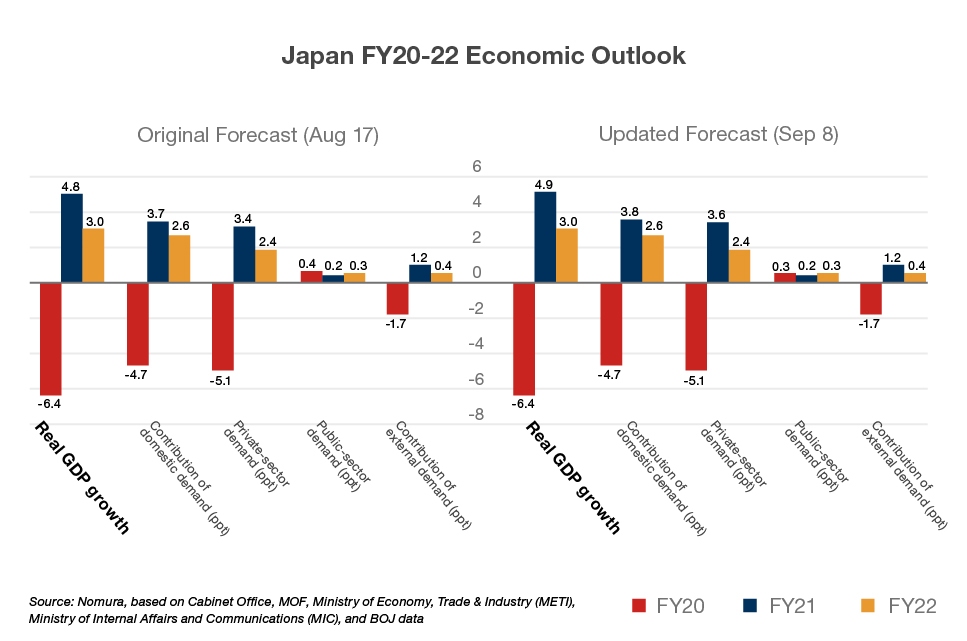 July–September consumer spending and exports broadly as expected
Relevant data for July and August suggests that real exports and real consumer spending have been broadly in line with our forecasts as of 17 August. With fresh COVID-19 outbreaks in Japan and overseas broadly easing again, we see no need to make any major adjustments to our outlook for the economic growth trajectory from 2020 Q3 onwards.
Implications of Abe resignation for economic policy
PM Shinzo Abe announced his intention to resign on 28 August. Chief Cabinet Secretary Yoshihide Suga is regarded as the favorite in the upcoming LDP leadership election scheduled for 14 September. We think that any new prime minister is unlikely to radically alter economic policy and thereby affect the economic outlook, partly because Mr Suga has already said that he would pursue the same economic course as the previous Abe administration. However, if the new prime minister were to go for an early election (for example before the end of 2020), this could lead to economic policies and a third supplementary budget for FY20 being agreed before the end of 2020, thereby providing a greater boost to real public investment than we currently envision.
Inflation outlook broadly unchanged
We also basically retain our outlook for inflation, which is based on the outlook for the real economy set out above. Our forecasts for growth in the core CPI (all items excluding fresh food and including the effects of the consumption tax hike and making education free) are -0.7% y-y for FY20, -0.2% for FY21, and +0.4% for FY22, all unchanged versus 17 August. Some observers have taken the view that the BOJ might change its accommodative monetary policy in the wake of PM Abe's resignation, but we think it has little scope to adjust its current policy of powerful monetary easing, given weak inflation momentum and the risk of a slide into deflation.
Read our full report here for a breakdown.
Contributor
Takashi Miwa

Chief Japan Economist

Masaki Kuwahara

Senior Economist, Japan

Kohei Okazaki

Economist, Japan

Kengo Tanahashi

Economist, Japan

Yuki Takashima

Economist, Japan

Makoto Arai

Economist, Japan

Yuki Ito

Economist, Japan
Suggested views