Subdued inflation across the major economies has been puzzling economists for many years. The US is no exception to this phenomenon. In fact, inflation has been trending downwards in the US since the 1970s.
Average inflation

1970s: 7.1%
1980s: 5.6%
1990s: 3.0%
2000s: 2.6%
2010s: 1.7%
The downward trend of goods inflation in the US has been linked to the normalisation of trade relations with low-cost Asian producers such as China and the subsequent rise of imports. As those trade relations continue to strengthen, the downward pressure on goods inflation also increased.
Anemic goods inflation
y-o-y, three-year moving average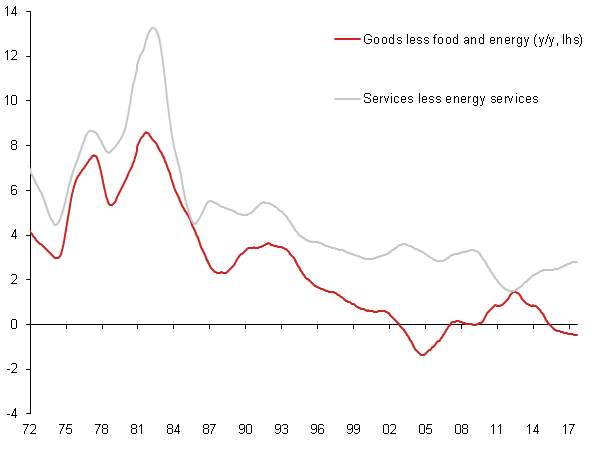 If the 2000s were the decade of globalisation, the 2010s have to be the decade of "Amazonisation". Amazon's unique distribution model, widening range of products and competitive prices are putting pressure on traditional retailers and putting further disinflationary pressure on the price of goods.

What can policymakers do to generate inflation?
Historically, there seems to be a strong correlation between goods inflation and the dollar cycle. A weak dollar in the 2000s saw inflation rise, while dollar strength since 2012 has seen goods inflation fall.
Weak dollar could increase inflation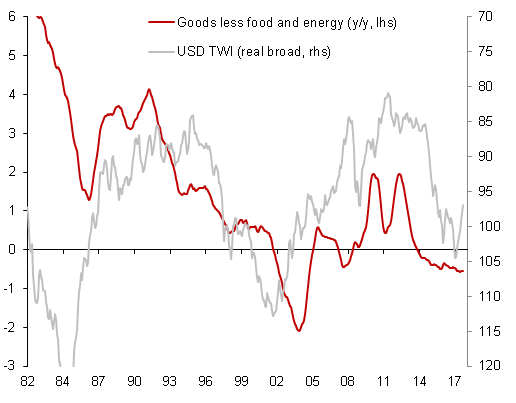 Global trade and Amazonisation are unlikely to go away anytime soon.
With uncertainty around fiscal policy in the US, the Fed's best option may be to implicitly pursue a weak dollar by keeping long-term yields in check.
For more insight on our views on inflation and FX, please visit Nomura's Global Research Portal.
Contributor
Bilal Hafeez

Head of Fixed Income Research, EMEA